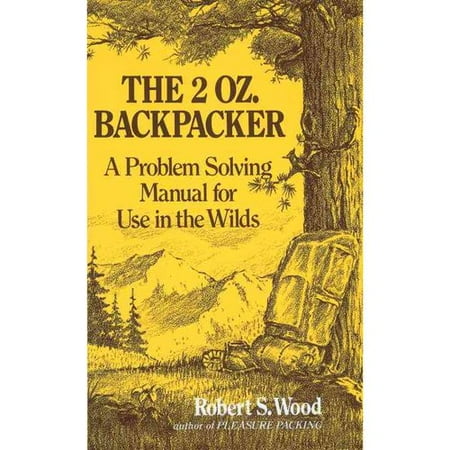 Book: The 2 Oz. Backpacker: A Problem Solving Manual for Use in the Wilds
Basic Information : Synopsis : Thoughts : Evaluation : New Words : Book References : Good Quotes
: Table of Contents : References
Basic Information:
Author: Robert Snyder Wood
Edition:eBook from the Fresno Public Library
Read:December 26, 2016
153 pages
Genre: Backpacking, Outdoor
Rated: 3 out of 5
Synopsis:
A collection, organized by five different subjects, of wisdom related to backpacking.
Thoughts:
This book is a reminder about reading older outdoors book. Times and techniques have changed. Ways of doing things 25 years ago which seemed OK have been superseded by better ways of doing things and definitely with better equipment.
Still, there is something to be said about older wisdom. Robert Wood does have knowledge and the more down to earth advice still hold true.
So this book is a reminder: all advice, whether old or new should be validated.
Walking

Wood reclaims the discovery of youth. Children which were dragging and you wonder how could you have ever inflicted such pain on them say things like,

when can we go again?

That is when you know you have done something right on the trip.

Footwear will be a great part of the determinate of how well you enjoyed your trip. He points out that the rule of thumb is an ounce on your foot is like five on your back. Wonder what he would think about going out in trail runners these days. He does allude that this is starting to taking off and seems in favor of it, depending on your hike.

He talks about how he splits up pack items with his partner. Basically trying to keep the same weight, unless there is a large difference in body size. This is the wisdom which my wife and I came up with. We balance out hiking speeds and endurance until they come out the same.

Cooking

Knowing how to set up the kithen for efficient operation and make the best use of the food you brought can make the difference between misery and a successful trip.

You get agreement with me here. We have simplified this to being more of a boiling water event and wait 10 minutes for the food to be ready. Much more relaxing.

Navigating

He talks about estimating speeds. He has come up with the same parameters as I have: basic 2 mph on level ground with a "normal" pack. For each 1,000' climb, ad an hour; for a descent, add a half an hour. Pack weight will alter this equation.

The lost backpacker's ability to regain his sense of direction and rediscover his location... depends largely on his ability to control panic and fear so that logic and reason can prevail.

He says that precise compasses are generally not needed. A general direction is usually good enough for guidance.
Evaluation:
Lets begin with that this book is about 25 years old when I read it. Its purpose is to be an on the trail assistant to help a backpacker figure out what is the best thing to do in common situations. The 2 oz' comes because Wood wanted this book to be light enough that it could be carried by a weight conscious person.
Does Wood accomplish his goal? It is a mixture. He is at his best when he describes things like how to select a camp site or getting into shape. But there is some things which are dated and should not be followed, such as wrapping your feet in plastic or choices of equipment or when to use a fire to cook.
My recommendation on this book is it is ok to read. But use with caution and double check his advice with more recent wisdom.
New Words:
Book References:
Freedom of the Hills from Mountaineers Books
Good Quotes:
First Line: Readers have asked for a featherweight source bok they can justify carrying along with them in the wilds, something that will provide a backup to their own experiences.
Last Line: Fifteen minutes spent making notes at the end of a trip will save two hours of preparation a month later.
Table of Contents:
Introduction

Walking

Keeping Fit

Camping

Cooking

Navigating

My Basic Checklist
References: